Welcome to Royal Engineering
Royal Engineering is a leading manufacturer in size reduction technology. By offering a complete range of products like Crushing, Screening, Grinding, Sand making & Washing, Material handling plant & Minerals processing and Beneficiary plant & equipment. For the field of Mines, Quarry, Cement, Iron ore, Coal, Minerals, Chemicals, Pharmaceuticals, Refractory's and many other sectors for the +600mm raw material size to the fineness into microns.
Crusher Machinery and Turnkey Plant Manufacturer & Exporter

Royal Engineering is the brand name well-known in the industrial market for offering the best crusher plant manufacturers across the world. We have gained a global standing for our high quality supplying of crusher plant machines. We are recognized for outstanding quality in manufacturing quality products due to our philosophy of putting the customer's necessities first.
Our main aim is to make the clients more productive and profitable by offering the premium crusher plants that made with the support of the latest technology machinery. With superior quality machines we deliver the highest production rates, highest quality, uniform spec product and minimum down time for maximum profitability. The crusher plants are the most preferred choice of the customers for diverse applications like iron ore, coal, aggregate, cement and other mineral sizing operations. Simple design and rugged construction that has made our product ideal for all types of crushing operations.
Industries We Serve :-

Aggregate crushing and screening solutions for nation building projects in construction of road, bridge, dam, tunnel and other heavy infrastructure
For Steel Industry we are offering Iron ore crushing and screening
For Cement Industry we are offering Limestone crushing and screening
For Aluminum Industry we are offering Bauxite crushing and screening
For Glass and Ceramic Industry we are offering Feldspar crushing and screening
For artificial marble plant we are offering Quartz crushing and screening
For Power plant we are offering Coal crushing and screening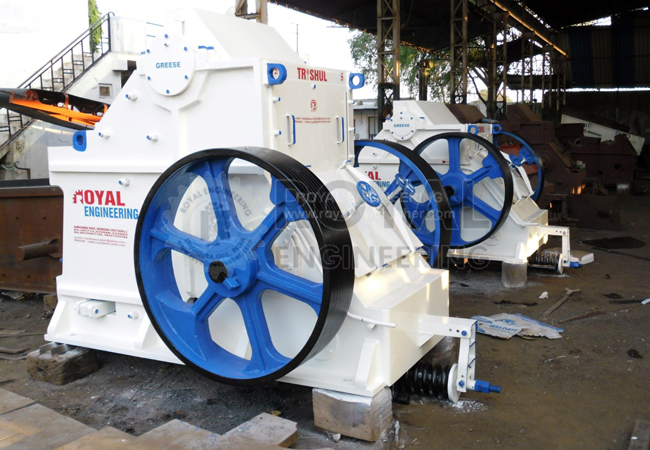 Double Toggle Oil Crusher
Royal Jaw Crusher constructed of heavy duty fabricated prime plate with reinforcing ribs.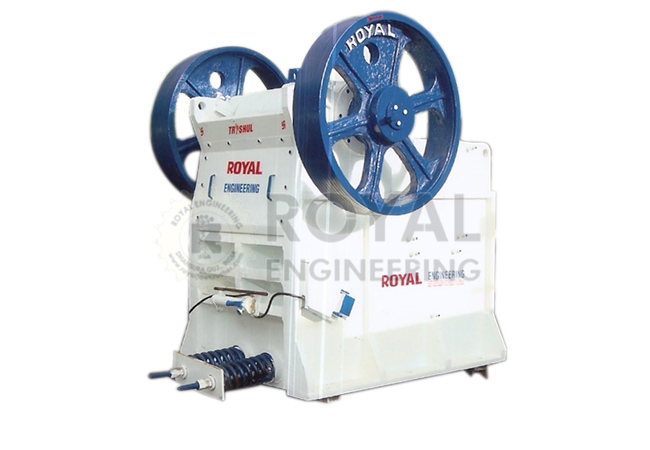 Single Toggle Grease Crusher
Royal Jaw Crusher constructed of heavy duty fabricated prime plate with reinforcing ribs.
Rock on rock & Rock on Metal design available. Better Cubical product shape& Low dust production.
M.S. Steel fabricated body. Two MN Steel Rolls are provided moving in the opposite direction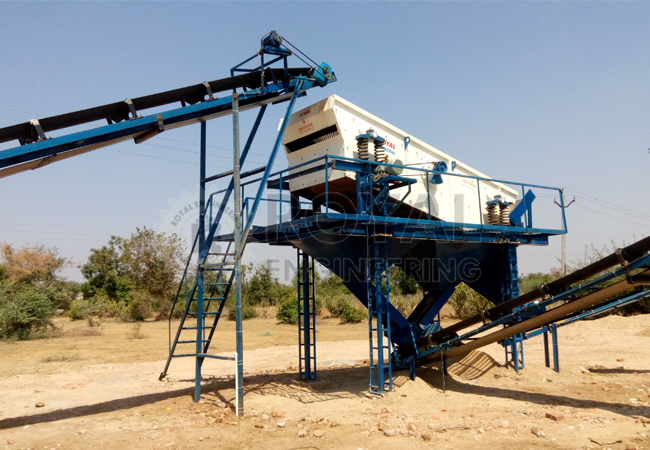 Vibrating Screen & Feeder
Weld free side plates increase Durability & Reliability. Robust fastening between mesh frame & side plate.
Machinery Selection By Material
Our Crushing Plant Features
The crushing plant provided by the Royal Engineering is having following features
The latest technology machinery is used for the different types of the Jaw crusher manufacturer, supplier and exporter in India.
We make use of the superior quality raw materials for crushing machine manufacturing that makes them use worldwide.
The crushing plant manufactured by the Royal Engineering is designed such that they can be easily operated for a longer amount of time.
The assembling and installation of the crushing plants is very simple and easy.
The solution for the crushing plant and crusher wear parts are provided by us that also at an affordable cost.
Importance of Our Service
Royal Engineering is serving their national and international customers for more than a period of the two decades and is the leading Oil Crusher Machine manufacturer in Gujarat, India.
Our company is situated at the best places and is easily accessible from all the states of India and we are the leading Rotary Dryer Manufacturer and Supplier in Ahmedabad.
More than a thousand of the customers are satisfied with our product and services as customer satisfaction is at the top of our priority.
We are providing the solution at an affordable price, but that doesn't mean we compromise with the product quality.
Why Choose Us?
With the support of the professional team of technicians, receiving training at regular intervals
Every equipment you buy ensures value for money